The berrycapsules contain 12 different types of berries in a highly concentrated form
in 1 jar!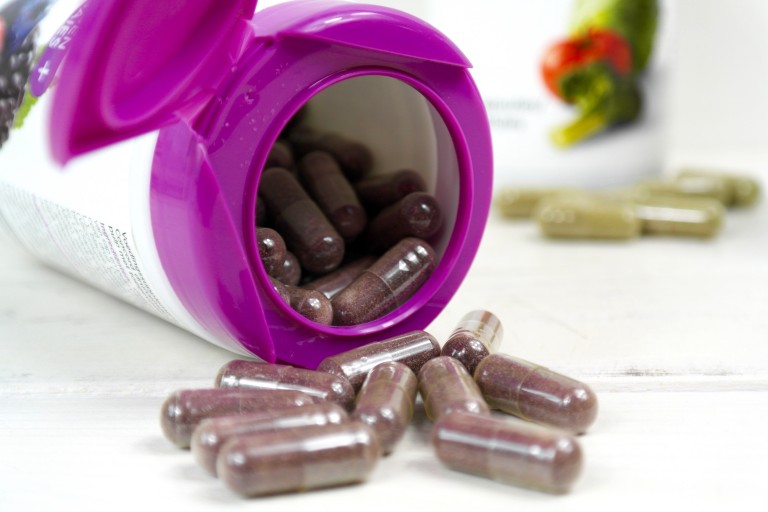 Nutrition supplement. Capsules with dried berries and grapejuice, berries– and graves and vitamines
All in a special concentrated shape. The berries are picked up when they are perfectly developed. After that they are careful being processed by our own patented process. For an optimal reduction of healthy ingredients, every day.
Thanks to their high phytochemical content, such as the resveratrol to be found in grapes, berries are considered especially nutritious.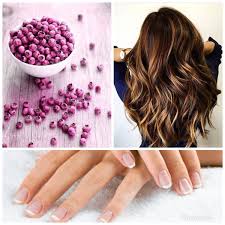 Ingredients
The berry capsules contain 12 sots of berries:
powder blend of juice and pulp from grapes and berries (42 %), concord grape, pomegranate, blueberry (6.5 %), cranberry, blackberry (3 %), bilberry, raspberry (1.5 %), elderberry, blackcurrant, cocoa powder, green tea extract,  artichoke leaf extract, grape seed extract, citrus extract. 
The berry capsules contain 29 mg. vitamine C and 9 mg. vitamine E.
What are the benefits of vitamine C?
What does vitamine C exactly? Vitamine C:
Vitamin C, has several important functions.

These include: helping to protect cells and keeping them healthy.

maintaining healthy skin,

blood vessels,

bones and

cartilage.

necessary for the growth,

development and repair of all body tissues

It's involved in many body functions, including formation of collagen,
absorption of iron,
the proper functioning of the immune system,

wound healing,

and the maintenance of cartilage, 

bones,

and teeth.

Berries contains 12 different types of berries in a highly concentrated form. The berries in Juice PLUS+ Selected Berries are harvested when they reach perfect ripeness, then carefully treated using our very own patented process. For a maximum intake of nutritional ingredients – every day.

Naturalness
Naturally colourful – the wide variety of berries. The high-quality base of Juice PLUS+ Selected Berries.
Naturally pure – guaranteed by constant laboratory controls carried out by SGS INSTITUT FRESENIUS.

Recommendations for use
Take 2 berry capsules every day, preferably at mealtimes, and drink plenty of water.


tags: booster, juiceplus, juice plus, shake, complete, healthy lifestyle plan, plus recepten, chocolatebar, juice plus, virtual office, chocolate bar, chocolade bars, havermoutkoeken zonder suiker, havermoutkoek zonder suiker, havermoutkoekjes zonder suiker, havermout koekjes zonder suiker, juice fruit, shake plus, plus producten,
alcoholvrije sangria, virtual office juice plus, juice plus capsules, bessencapsules, premium capsules, shakes, shakes vanille, shakes chocolade, afvallen, gezond afvallen, gezond afslanken, afslanken zonder dieet, weight watchers, sonja bakker, keto, keto dieet, koolhydraatarm, koolhydraatarm dieet, geen dieet afvallen, 5 kilo afvallen, 10 kilo afvallen, 15 kilo afvallen, snel afvallen, afvallen zonder dieet, afvallen met shakes, gezonde shakes, voedingsplan, afvallen met voedingsplan, afvallen voedingsplan, afvallen voorbeeldmenu's, gezond afvallen shakes, afvallen juice plus, afvallen met juice plus, juice plus booster, juice plus bessencapsules, juice plus premium capsules, juice plus shakes vanille, juice plus shakes chocolade, juice plus towergarden, juice plus booster prijs, booster prijs, bessencapsules prijs, premium capsules prijs, shakes prijs, juice plus shakes prijs, juice plus bessencapsules prijs, juice plus premium capsules prijs, juice plus fruit groenten capsules prijs, juice plus booster prijs, juice plus towergarden prijs, juice plus shakes vanille prijs, juice plus shakes chocolade prijs, juice plus shakes bestellen, juice plus booster bestellen, juice plus  bessencapsules bestellen, juice plus  premium capsules bestellen, juice plus  groeten fruit capsules bestellen, juice plus  shakes vanille bestellen, juice plus shakes chocolade bestellen, juice plus afvallen, juice plus afslanken ,juice plus voedingsplan, juice plus downloaden, juice plus gratis, juice plus prijs, juice plus bestellen, juice plus aanbieding, juice plus korting, juice plus aktie, juice plus complete, juice plus shakes, complete by juice plus, juice plus gummies, juice plus, complete nutrition, virtual office juice plus, juice plus virtual office, garden tower juice plus, tower garden juice plus, juice plus tower garden, tower garden by juice plus, juiceplusvirtualoffice, juice plus vitamins, juice plus gummies, juice plus login, juice plus customer service, vegetables capsules, complete by juice plus, juice plus complete, complete juice plus, juiceplusvirtualoffice login, juice protein, juice plus virtual office login, juice plus, juice plus virtual office, juice plus uk, juice plus shakes, juice plus boosters, juiceplusvirtualoffice, juice plus login, complete by juice plus, juice plus office, juice plus berry capsules, berry capsules juice plus, juiceplusvirtualoffice login, juice plus virtual office login, juice plus virtual office log in, juice plus diet, juice plus complete, juice plus for weight loss, juice plus weight loss, berry capsules, berry capsule, juice plus, complete, schakschuka rezept, juice plus virtual office, virtual office juice plus, complete juice plus, juice plus complete, uplift, juiceplusvirtualoffice, juice plus office, alkoholfreier eierlikör, fruit juice, juice plus nsa, juiceplus nsa, nsa juice plus, shakshuka original, omega juice
power foods, powerfoods, juice plus kapseln