The Booster is used in combination with a energielow diet.
The Booster contains Gluccomanan.
The Booster is 100% natural and you use it before every meal.
Thanks to the oat oil, green tea and glucomannan, you will feel satisfied faster and you will also feel less hungry again.
What does Gluccomannan exactly does?
The natural product glucomannan (konjac extract) is a very rich dietary fiber. Of all dietary fibers, glucomannan has the highest molecular weight with the highest viscosity. The great advantage of glucomannan is that it has the property of binding excess starch, sugar and fat and removing it from the body. The dark tuber ensures a full feeling and therefore reduces the feeling of hunger.
Psyllium is another dietary fiber and can be used well when you have a shortage of extra fiber in the diet, or if you suffer from constipation.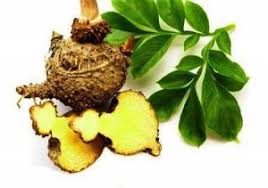 Advantages of Psyllium and Glucomannan:
Good for a soft intestinal passage
Helps to suppress appetite and therefore fits perfectly into our weight management program
Supports a stable blood sugar level
These extra fibers are good for general health and digestion.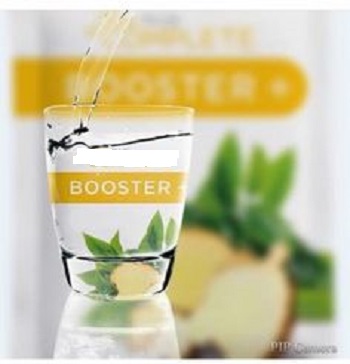 Gluccomannan
The Booster contains an innovative emulsion, which increases the satiety hormone GLP-1. The innovative ingredient is Glucomannan. Glucomannan helps suppress appetite, maintains healthy blood sugar, cholesterol and fat levels. In addition, it improves energy and because it is a fiber, it also has an intestinal cleansing effect.
In combination with water, glucomannan can form up to 100x its own volume and then forms into a gel-like substance that is not absorbed by the body, it also slows down the absorption of fats and unnecessary carbohydrates.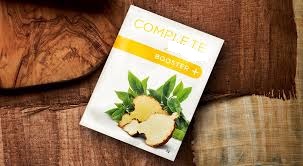 The ingrediënten of the Booster:
Olie-emulsie (gedroogd maïssiroop, palmolie, haverolie), glucomannan, fructose, aroma (multifruit), groene thee-extract (Camellia sinensis), stabilisator: kaliumtrifosfaat; cafëine (Coffea arabica) aroma.
The booster G2 does not contain gluten.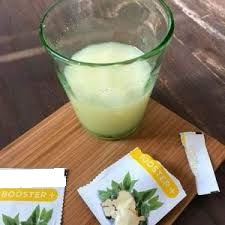 What is the function of the ingredients:
In the context of weight loss, I can say the following about these ingredients:
Glucomannan is a dietary fiber with a two-part effect:
– provides an early signal of satiety (in other words, you feel full faster, so that you eat less)
– slows down the absorption of the stomach, making you less hungry again.
Green tea extract and caffeine 'boost' your metabolism and are often used to prevent and combat obesity, during slimming treatments and to support a diet.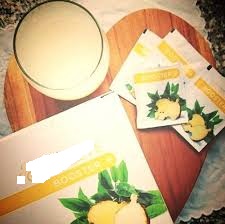 Usage
The beneficial effect is obtained with a daily intake of 3 grams of glucomannan in three doses of 1 gram each, together with 1 or 2 glasses of water, before meals.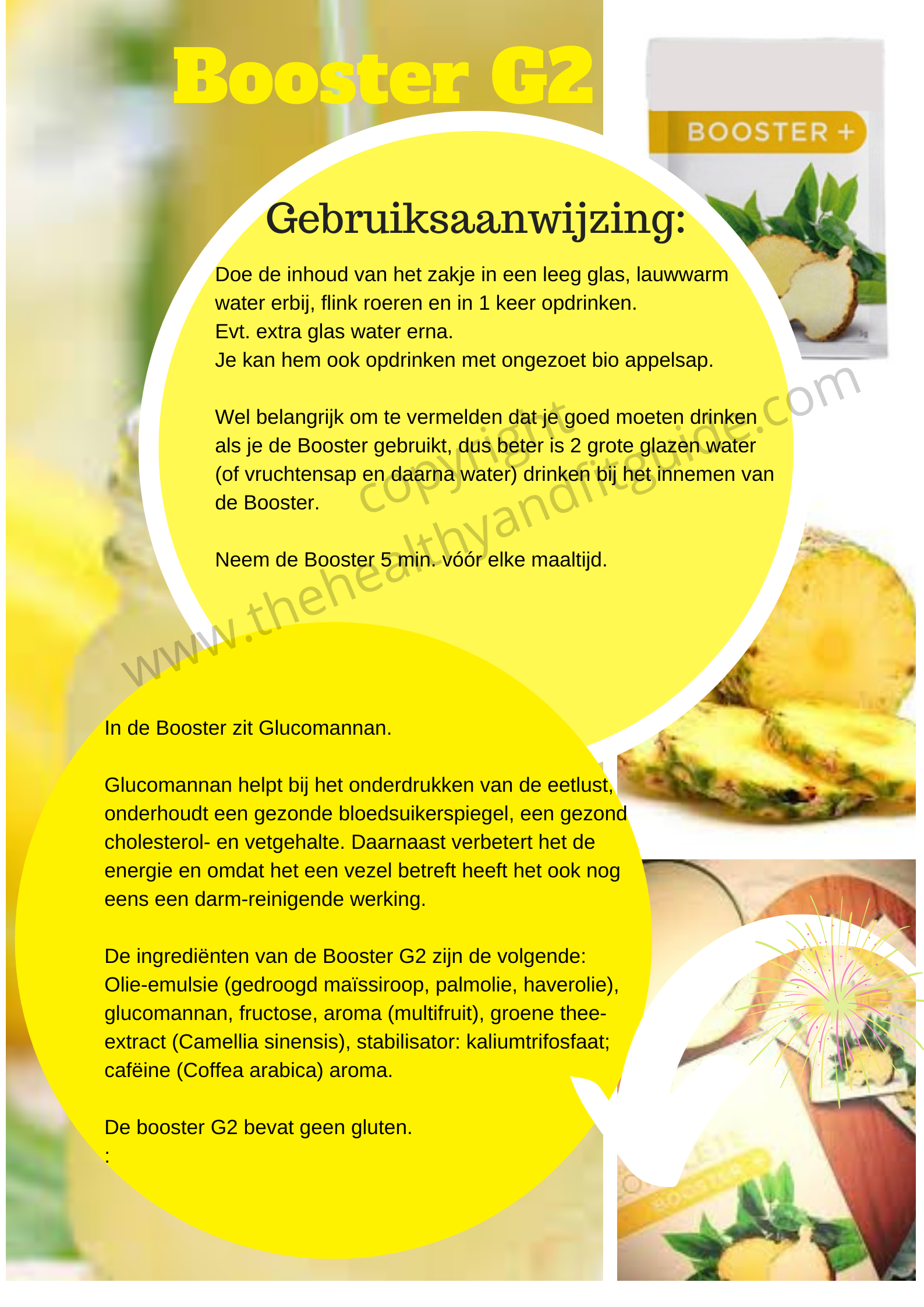 ADVANTAGES:
+ vegan
+ glutenfree
+ preservative-free
+ non-genetically engineered
+ dual mode of action
+ natural green tea extract
+ innovative ingredient with convincing research results: Glucomannan
+ In the context of an energy-restricted diet, glucomannan contributes to weight loss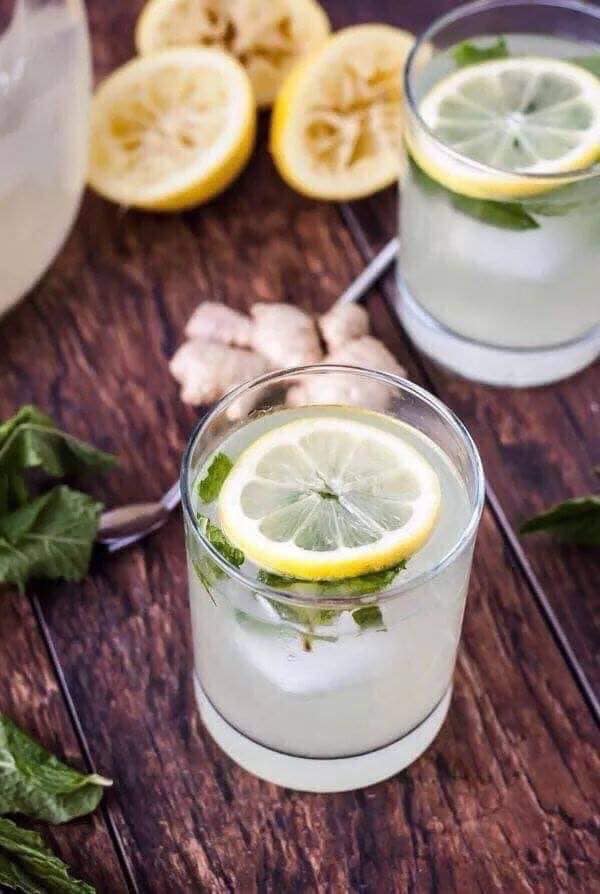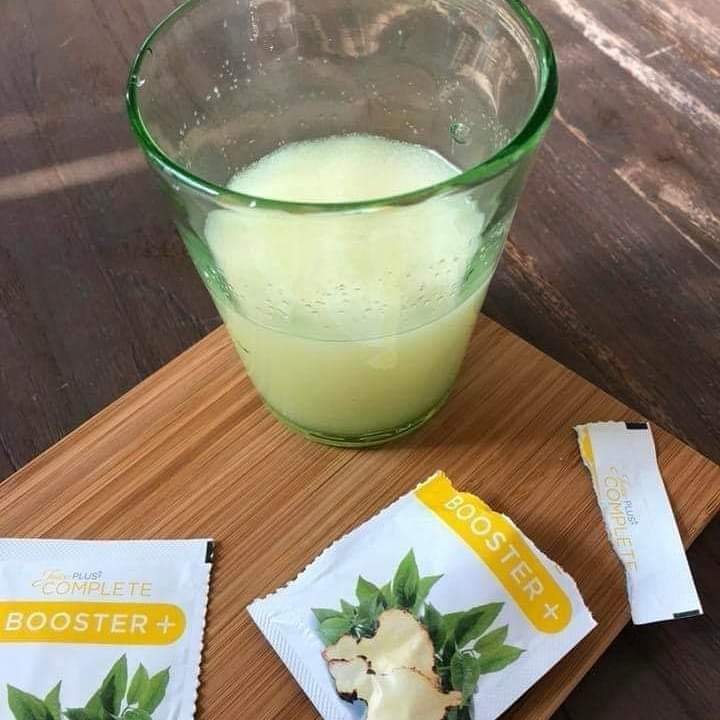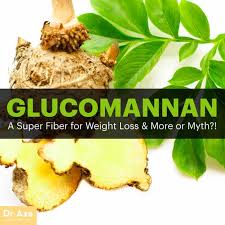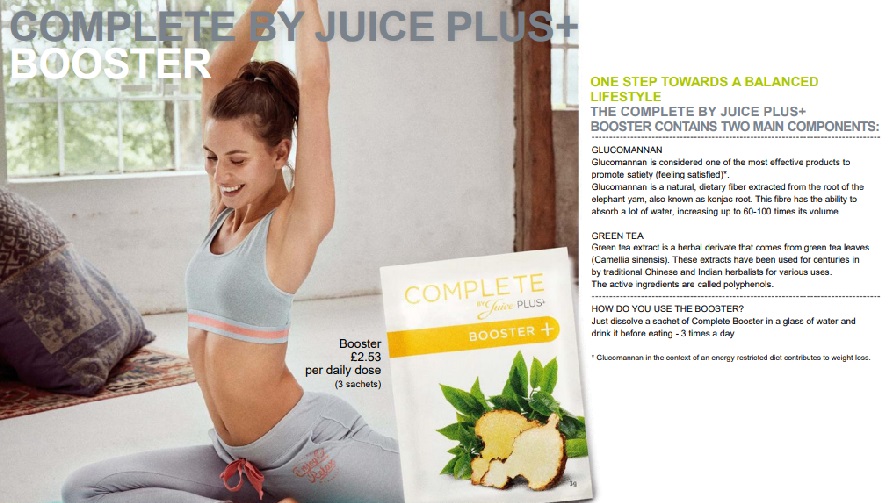 tags: booster, juiceplus, juice plus, shake, complete, healthy lifestyle plan, plus recepten, chocolatebar, juice plus, virtual office, chocolate bar, chocolade bars, havermoutkoeken zonder suiker, havermoutkoek zonder suiker, havermoutkoekjes zonder suiker, havermout koekjes zonder suiker, juice fruit, shake plus, plus producten,
alcoholvrije sangria, virtual office juice plus, juice plus capsules, bessencapsules, premium capsules, shakes, shakes vanille, shakes chocolade, afvallen, gezond afvallen, gezond afslanken, afslanken zonder dieet, weight watchers, sonja bakker, keto, keto dieet, koolhydraatarm, koolhydraatarm dieet, geen dieet afvallen, 5 kilo afvallen, 10 kilo afvallen, 15 kilo afvallen, snel afvallen, afvallen zonder dieet, afvallen met shakes, gezonde shakes, voedingsplan, afvallen met voedingsplan, afvallen voedingsplan, afvallen voorbeeldmenu's, gezond afvallen shakes, afvallen juice plus, afvallen met juice plus, juice plus booster, juice plus bessencapsules, juice plus premium capsules, juice plus shakes vanille, juice plus shakes chocolade, juice plus towergarden, juice plus booster prijs, booster prijs, bessencapsules prijs, premium capsules prijs, shakes prijs, juice plus shakes prijs, juice plus bessencapsules prijs, juice plus premium capsules prijs, juice plus fruit groenten capsules prijs, juice plus booster prijs, juice plus towergarden prijs, juice plus shakes vanille prijs, juice plus shakes chocolade prijs, juice plus shakes bestellen, juice plus booster bestellen, juice plus  bessencapsules bestellen, juice plus  premium capsules bestellen, juice plus  groeten fruit capsules bestellen, juice plus  shakes vanille bestellen, juice plus shakes chocolade bestellen, juice plus afvallen, juice plus afslanken ,juice plus voedingsplan, juice plus downloaden, juice plus gratis, juice plus prijs, juice plus bestellen, juice plus aanbieding, juice plus korting, juice plus aktie, juice plus complete, juice plus shakes, complete by juice plus, juice plus gummies, juice plus, complete nutrition, virtual office juice plus, juice plus virtual office, garden tower juice plus, tower garden juice plus, juice plus tower garden, tower garden by juice plus, juiceplusvirtualoffice, juice plus vitamins, juice plus gummies, juice plus login, juice plus customer service, vegetables capsules, complete by juice plus, juice plus complete, complete juice plus, juiceplusvirtualoffice login, juice protein, juice plus virtual office login, juice plus, juice plus virtual office, juice plus uk, juice plus shakes, juice plus boosters, juiceplusvirtualoffice, juice plus login, complete by juice plus, juice plus office, juice plus berry capsules, berry capsules juice plus, juiceplusvirtualoffice login, juice plus virtual office login, juice plus virtual office log in, juice plus diet, juice plus complete, juice plus for weight loss, juice plus weight loss, berry capsules, berry capsule, juice plus, complete, schakschuka rezept, juice plus virtual office, virtual office juice plus, complete juice plus, juice plus complete, uplift, juiceplusvirtualoffice, juice plus office, alkoholfreier eierlikör, fruit juice, juice plus nsa, juiceplus nsa, nsa juice plus, shakshuka original, omega juice
power foods, powerfoods, juice plus kapseln