You've had roasted vegetables aplenty. I'm sure of it, because they're delicious and nutritious and a perfect addition to every meal: Roasted carrots are one of my faves, along with roasted sweet potato, and roasted broccoli.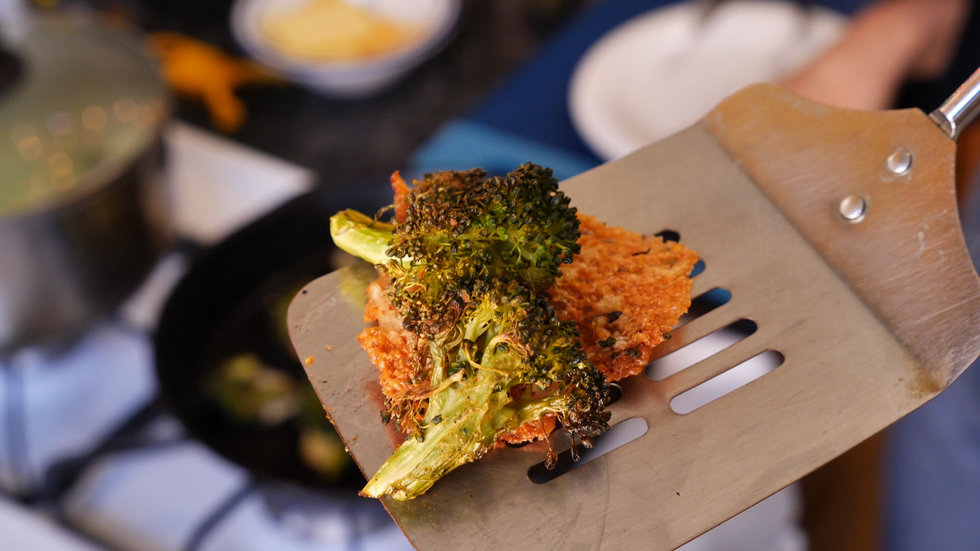 It occurred to me recently that there's really only one way to way roasted veg even better, and that's to add cheese to the equation. You can of course just sprinkle some cheese on top and let it melt all over in the oven, but what I've delighted in making is a stove-top cheese "cracker."
It's as easy as heating up your pan, plopping some slices or shreds of cheese in there until they start to melt, then topping each cheese puddle with your perfectly roasted broccoli. Wait for the bottom of the cheese to set and turn deeply golden, let it cool off a bit, and then you're all set for a little bit crispy, a little bit toasty, and a whole lot of snack heaven.
1 h
ead broccoli florets and tender stems
2 tbsp.
extra-virgin olive oil
Kosher salt
Freshly ground black pepper
smoked paprika (optional)
1/8 tsp.
ground white pepper (optional)
1 c.
sliced or shredded cheese (such as cheddar, Gouda, Parmesan)
Preheat oven to 375°. In a large bowl, toss broccoli with oil and season with spices until evenly combined. Transfer mixture to a large baking sheet and spread into an even layer.
Bake, flipping halfway through, until broccoli is tender and edges begin to turn crispy, about 30 minutes.
In a large pan over medium-low heat, place 1 tablespoon of cheese 2″ apart from each other and allow to melt. Place 1 to 2 pieces of broccoli on top of each cheese puddle and continue cooking until cheese is crispy and golden.
Allow cheese crisps to cool slightly before serving.