Ingredients
1 teaspoon dried oregano
olive oil
2 x 150 g free-range chicken breasts
150 g quinoa
50 g white cabbage
1 large handful of salad leaves
¼ of a pineapple
50 g natural yoghurt
1 fresh red chilli
DRESSING
½ an avocado
½ a bunch of fresh coriander , (15g)
2 tablespoons pickled jalapeños
2 limes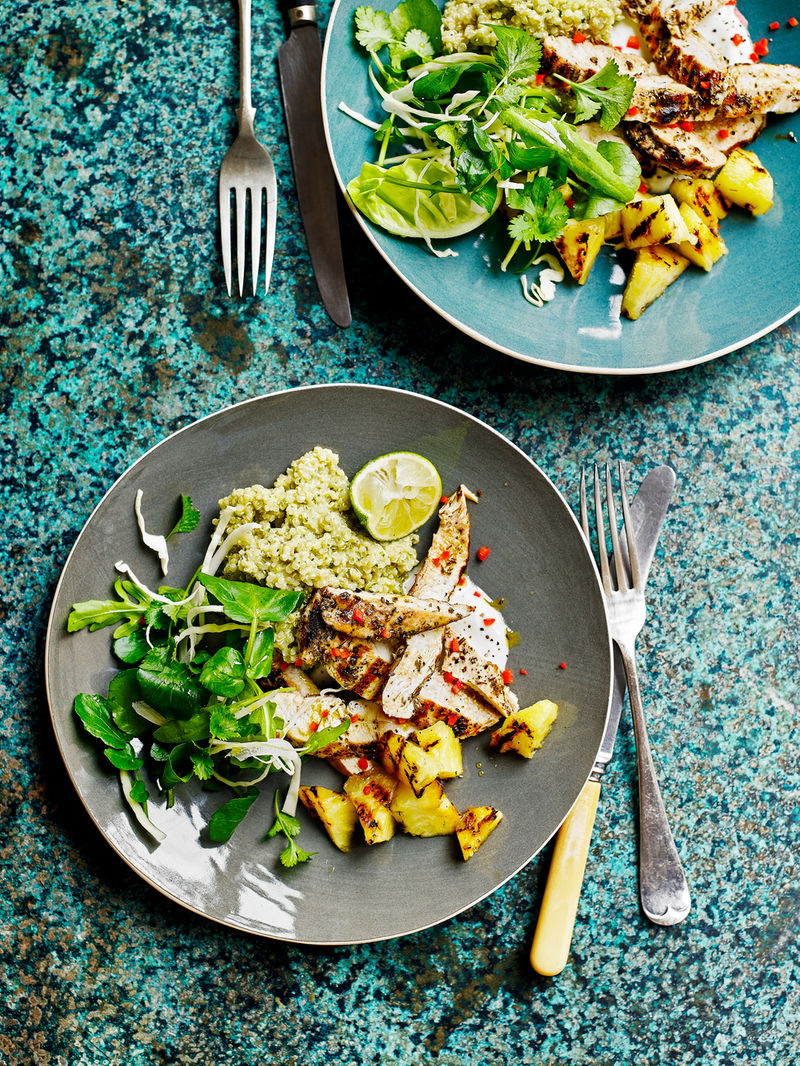 Method
Combine the oregano in a bowl with 1 to 2 tablespoons of oil, then season with sea salt and black pepper.
Use a sharp knife to slice into the chicken breasts, then open each one out flat like a book to butterfly. Place in the bowl with the herby oil, turning until well coated, then leave to one side.
Cook the quinoa according to the packet instructions, then drain and set aside.
For the dressing, peel and destone the avocado half, then scoop the flesh into a blender. Add half the coriander (stalks and all) and the jalapeños, along with a splash of the pickling liquid and the juice of 1½ limes. Blitz until smooth, adding a splash of oil, if needed. Stir through the quinoa.
Finely shred the cabbage, pick the remaining coriander leaves, then toss with the salad leaves.
Place a griddle pan over a high heat. Peel the pineapple, remove and discard any core, then chop into 4. Place on the hot griddle pan for a few minutes on each side, or until charred, and transfer to a chopping board.
In the same pan, griddle the chicken for 5 minutes on each side, or until charred and cooked through, then remove from the pan and leave to rest on the board for a few minutes.
Chop the griddled pineapple into bite-sized chunks, then slice the chicken into thin strips. Deseed and finely chop the chilli.
Divide the yoghurt between four plates, then top with the chicken, adding the pineapple on one side and the dressed quinoa on the other. Toss the leaves and cabbage with the juice of the remaining lime half and a little salt and pepper, plus the chopped chilli. Divide between the plates, then serve.