These are the simplest pancakes to make with kids.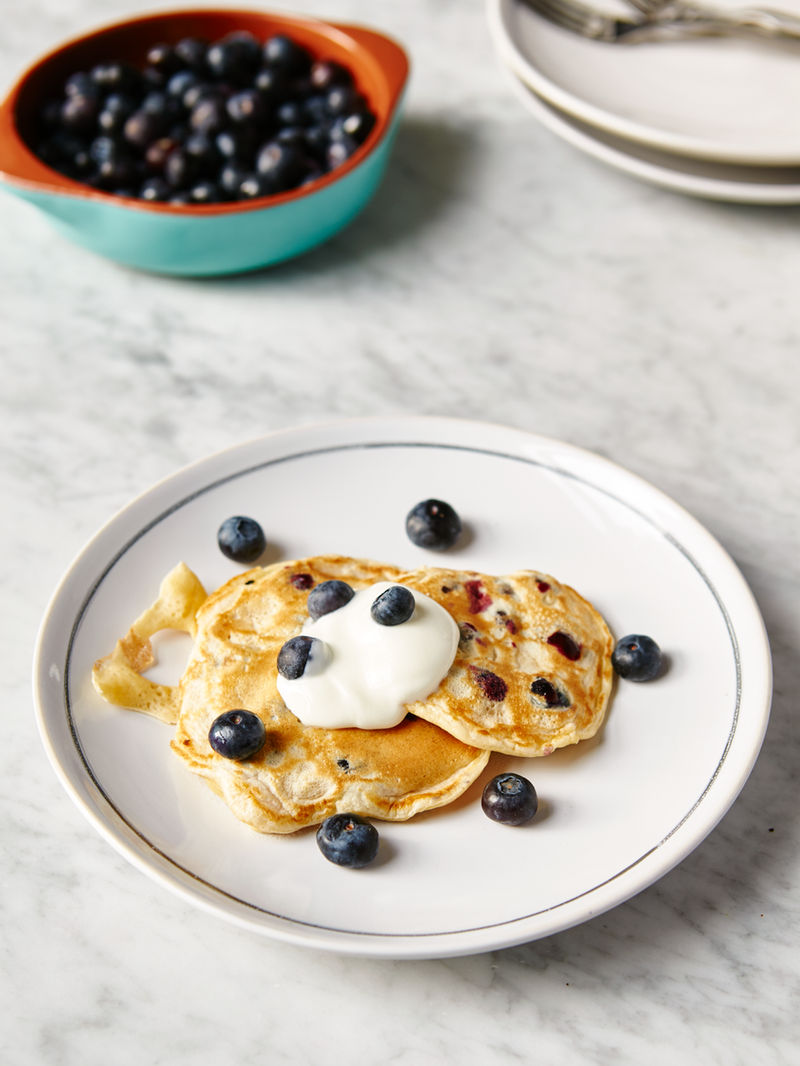 You don't even need scales to weigh out the ingredients of these One-cup pancakes with blueberries.
All you need is a cup or a mug. As long as you use the same cup for measuring both the flour and the milk, you'll be laughing!
Ingredients
1 large free-range egg
cup of self-raising flour
1 cup of milk
200 g blueberries
olive oil
4 tablespoons natural yoghurt
Method
Crack the egg into a large mixing bowl, add the flour, milk and a tiny pinch of sea salt.
Whisk everything together until you have a lovely smooth batter, then fold through the blueberries.
Heat ½ a tablespoon of olive oil in a large non-stick frying pan over a medium heat, carefully tilting the pan to spread the oil out evenly.
Add a few ladles of batter to the pan, leaving space between each one so they have room to spread out slightly – each ladleful will make one pancake, and you'll need to work in batches.
Cook for 1 to 2 minutes, or until little bubbles appear on the surface and the bases are golden, then carefully flip them over.
When the pancakes are golden on both sides, remove to a plate.
Repeat with the remaining batter, adding a little more oil to the pan between batches, if needed.
Serve the pancakes while they're still hot, with a dollop of yoghurt and some extra fresh berries, if you like.
Tips
EASY SWAPS
– You can cook up this hero batter in four delicious ways: classic crêpes, fat, fluffy pancakes, wicked waffles or pancake sandwiches.
– If you don't have blueberries, blackberries or raspberries would work a treat, or simply leave out altogether.
TERRIFIC TOPPINGS
– A squeeze of lemon and a small sprinkling of golden caster sugar would be delicious.
– Up your fruit count with a handful of seasonal mixed berries, such as strawberries, blackberries, or raspberries.
– Peeled and sliced banana, grated apple or pear, or even drained tinned fruit in juice are also winners.
– You could finish with a dusting of ground cinnamon, a drizzle of maple syrup, or a dollop of Greek-style yoghurt.
– Go savoury! A rasher of grilled higher-welfare streaky bacon would be super-tasty.