Ingredients
150 g frozen peas , broad beans, or edamame beans

1 heaped tablespoon self-raising flour

1 preserved lemon

¼ teaspoon cumin seeds

6 flatbreads

60 g shelled unsalted pistachios , (optional)

100 g soya yoghurt

hot chilli sauce

SALAD PICKLE

1 pomegranate

red wine vinegar

extra virgin olive oil

1 red onion

1-2 fresh mixed-colour chillies

1 cucumber

1-2 mixed-colour carrots

1 bunch of fresh mint , (30g)

HOUMOUS

1 x 660 g jar of chickpeas

1 tablespoon unsweetened peanut butter

½ a clove of garlic

1 lemon

½ a bunch of fresh parsley , (15g)

olive oil

¼ teaspoon sweet smoked paprika

1 tablespoon dukkah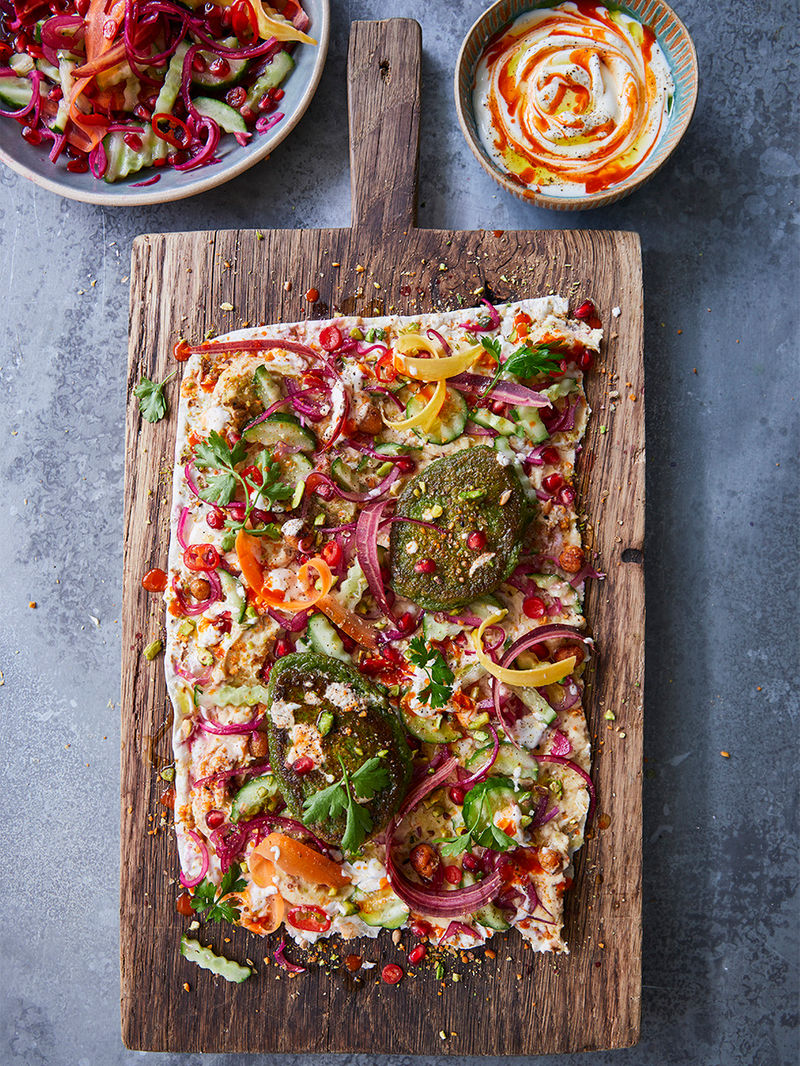 Method
To make the salad pickle, squeeze half the pomegranate juice into a large, shallow bowl. Top it up with an equal amount of red wine vinegar, then drizzle over some extra virgin olive oil and give it all a good mix.

Peel and finely slice the red onion, finely slice the chillies (deseed if you like), matchstick the cucumber (I like to use a crinkle-cut knife) and shave the carrots into ribbons, then combine it all in the bowl.

Holding the remaining pomegranate half cut-side down, bash it with the back of a wooden spoon so the seeds tumble out over the salad. Pick and tear over half the mint leaves, then gently toss and leave aside until needed.

For the houmous, tip half the jar of chickpeas into a food processor and season with sea salt and black pepper. Add the peanut butter and 2 tablespoons of extra virgin olive oil, peel and add the garlic, finely grate in half the lemon zest and squeeze in all the juice. Whiz until super-smooth, then transfer to a shallow serving bowl. Pick over a few parsley leaves and drizzle with a little extra virgin olive oil.

Spoon 2 tablespoons of the chickpeas into a non-stick frying pan over a medium heat with 1 tablespoon of olive oil. Sprinkle over the paprika and dukkah, and cook for 5 minutes, or until the chickpeas are crisp, then tip over the houmous.

For the falafel fritters, place the remaining chickpeas and mint leaves into the food processor, along with the peas and self-raising flour. Quarter the preserved lemon, removing any pips, and pulse until combined.

Drizzle 1 tablespoon of olive oil into a large frying pan over a medium heat, then dollop in heaped teaspoons of the falafel batter. Fry for 4 minutes on each side, or until golden, sprinkling over the cumin seeds when you flip them.

Now it's time to bring everything together. Warm the flatbreads in the oven for a few minutes and crush the pistachios (if using) in a pestle and mortar. Put the soya yoghurt into a bowl and stir in a few dashes of chilli sauce. Load up your flatbreads with a bit of everything, pick over the remaining parsley leaves, then roll up and tuck in!